Dear Green Siders & friends 👋
Location : 36 Bowling Avenue, Wendywood, Sandton
Who says you can't eat ice cream in winter?
Join us for for a super Sunday filled with splendid tastes, hot tunes and lovely vibes. The next Ice Cream Sunday happening on the 26th JUNE 2022.
As the craze continues we keep growing with our new ice cream recipes , tastes and have loads of brand new sorbet and ice cream flavours. If you have not joined us before come down and be blown away. We are ready to wow you with our plant based Ice-cream Sunday.
Starting at 12:00pm your Sunday will be filled with tunes from our awesome green ear candy. You will also be served our fresh&healthiest smoothies and burgers from our very own plant-based diner.
Be sure to bring the entire family plus the kids as this is a child friendly event.
We are looking forward to hosting you at our store on bowling avenue, watch the space for DJ line up and constant ice cream updates
See you soon, save the date
Namaste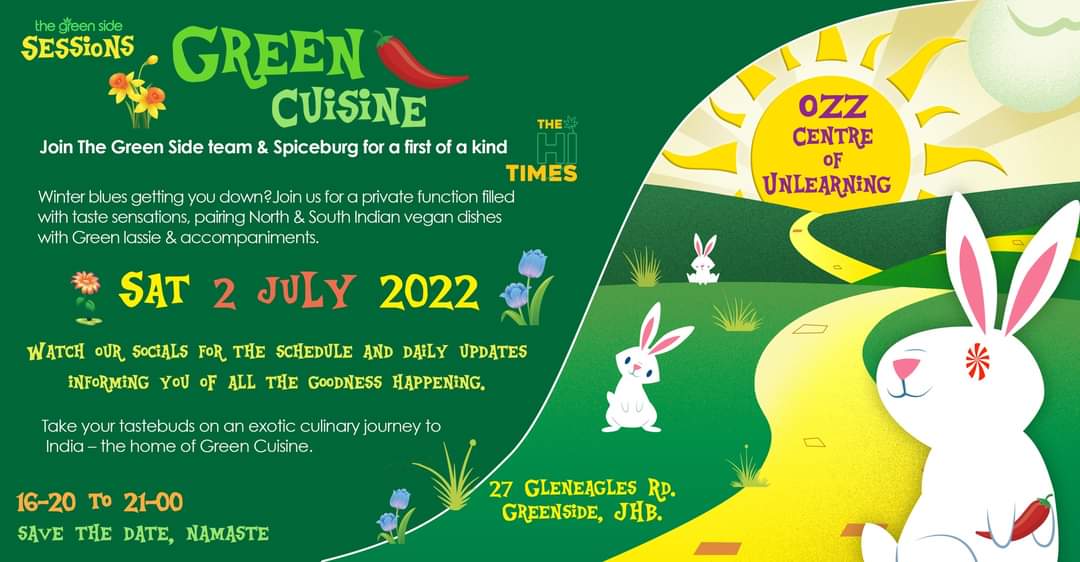 The Hi Times : Green Cuisine
Location : 27 Gleneagles rd, Greenside, JHB
Ozz, 'Your centre of unlearning' The Hi times
Dear friends,
you have asked so here it is, We are delighted to launch yet another Green Cuisine Indian culinary experience at our new private beautiful Bedouin transit lounge at the Green Side.
Yes you heard that correctly, we are back! Join The Green Side team & Spiceburg for a one of a kind Hi times on the 2 July 2022. Join us to warm you up with an exotic private function filled with taste sensations by pairing North & South Indian vegan dishes with Green lassie & accompaniments.
Don't let the winter blue get you down, come down to the green side mothership for Hi times starting at 14:20-21:00, watch the space for the daily updates informing you on all the goodness happening.
The all natural Green ingredients will open up your taste buds by offering you this unique culinary experience. You will journey from mind blowing exotic tastes to a toe tapping Indian virtual adventure enjoying mellow ambient tunes from our in house producers while observing the Chefs cooking in front of your very eyes.
The name Spiceburg was inspired by a play on words, 'lets Spice up Jozi' .Their cuisine extends from the temperate flavours of Kashmir in the North to piquant offerings of Kerala in the South and the delicately spiced seafood from the East to the rich flavours of the Punjab.
Namaste