Jiffy
- The best professional quality for leisure gardeners
Jiffy is a globally operating company and has manufacturing locations strategically located near peat bogs in Canada, Denmark and Norway, producing peat pots and Jiffy-7 pellet propagation systems. Jiffy also manufactures a complete line of coir products at our three manufacturing facilities in Sri Lanka.
Jiffy abides by the highest standards both in safeguarding the environment as well as providing the highest quality, in many cases certified products, to its customers. The professional grower of today relies on the best technical assistance for the products chosen as inputs in their businesses.
We stock a wide range of Jiffy products in our warehouses with our own truck and drivers for shorter deliveries. We supply growers of vegetables, forestry, pecans, macadamias, roses, vines, flowers, and many other plants with a range of Jiffy products.
Growing Plants It's
Child's Play with Jiffy's Products!
We believe in the power of providing solutions and education to our growers, rather than just selling products. We've invested 10 years into intense biological nutrition research and developed a line of organic & organo-mineral nutrients and biostimulants to grow plants. Our products are specifically formulated to provide optimal nutrient sequencing and micro life stimulation, so plants can grow to maximum their genetic potential. We want to share this knowledge and advanced way of plant care.
APTUS PLANT TECH is active worldwide, and has been adopted by beginner and experienced growers alike. We educate and provide solutions (and products), enabling growers to move away from harsh synthetic chemicals and inferior formulations.
EXPLORE THE
JIFFY PRODUCTS RANGE
Organic planting pots in various shapes and sizes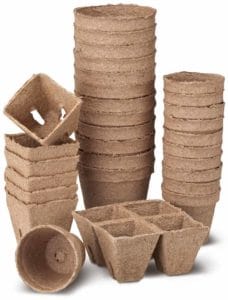 The Jiffypots® are available in different sizes either ø6cm or ø8cm , in round or square and in different packaging sizes from 11 to 32 pieces per package. The Jiffystrips® are also available in two sizes either 4,5cm square or 6cm square and in rows with 8 or 10 little pots. As mentioned before the Jiffypots and Jiffystrips go perfect together with the Jiffy QSM and can on the one handy be used in the Jiffy greenhouses and on the other hand be planted directly into the garden or flower pot.
Pot and ideal cultivating soil in one – for seeds and seedlings!
Jiffy 7 pellets are used extensively by growers all over the world to propagate a wide variety of seeds and cuttings. The pellets are made of coco—peat (hence the 7"C " designation) and are shipped directly from our Sri Lankan factories to distributors all over the world. The compressed nature of the pellets ensure ease of transport.
Jiffy manufactures a wide range of plastic trays in it's factory in Sri Lanka.
The trays are made from 100% recycled plastic and in accordance with ISO 9001 standards.
The trays are made specifically for each of the Jiffy pellet and Jiffy Growblock sizes and therefore form an important part of the Jiffy growing systems, ensuring proper application of Jiffy products. By keeping the manufacturing process in house, Jiffy ensures that global quality standards are ensured in our tray systems.